Service Dogs come in all shapes and sizes.
Qualify your canine assistant
to be a Service Dog.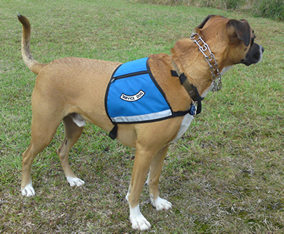 Meet Brut, an owner trained service dog. Complete with vest patches, collar, leash, collar tag, certificate wallet card.
Testimonial
First of all Paul with Service Dogs America gave me excellence service, helpful & kind and always there for us.          
I have had Maya my husky mix as my service dog with Service Dogs America for 4 years. I took Maya to brazil 2014-2015 for 6 months and we just returned to the USA.
We had easy flight on American Airlines we had our own seats, easy entrance through custom into brazil.  Then I brought Maya and my border collie puppy back to USA with an easy entrance with her service dog card & vest. My new puppy Francisco is in training under Maya now and he is also a service dog. We are so grateful. Thank you so much Service Dogs America.  
Pamela Sophia Rays & Maya, Francisco